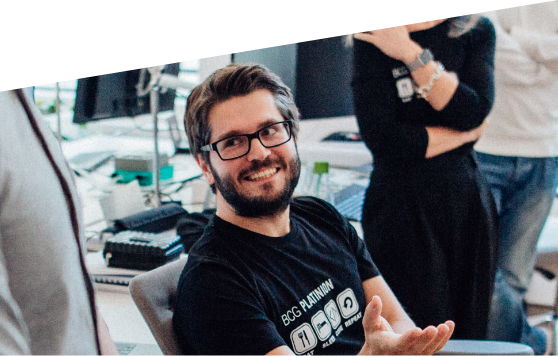 Are you interested in exploring new ideas? Are you ready to create technology solutions for the next generation of our ways of working? Are you an IT architect, designer, software developer, engineer, or just someone who is deeply immersed in the tech universe?
#codingdigitalstrategies
We want to explore new ideas, create efficient, sustainable and convenient solutions—to accompany the challenges of now and tomorrow.
Better solutions are born not in isolation but out of great collaboration: Our aim is to bring participants all over Europe together on two days, cluster them into teams, and turn their ideas into reality! Teams will work together in workspaces, supported by a group of experienced BCG Platinion experts. At the end of the two-day hackathon, each team will present its product in a short pitch—and yes, there will also be a prize for the winning team!
Stay tuned for the Hackathon 2022!



About
BCG Platinion
As a seamlessly integrated part of the BCG network, BCG Platinion provides consulting services focused on the development and implementation of business-critical IT architecture and digital solutions, combining strategic perspectives with digital know-how.
We enable clients on their digital journey with a focus on IT architecture, digital transformation technology and data platforms, cybersecurity, and implementation management.
The Hackathon 2021 was designed for young professionals currently working in Europe who have a passion for digital topics and coding, the curiosity to tackle new challenges, and the drive to make an impact. Would you like to know more about the Hackathon 2021? Watch the Video!
Stay tuned!
You do not want to miss any news? Stay in touch with us and pre-register for the Hackathon 2022. We inform you as soon as the application process starts.